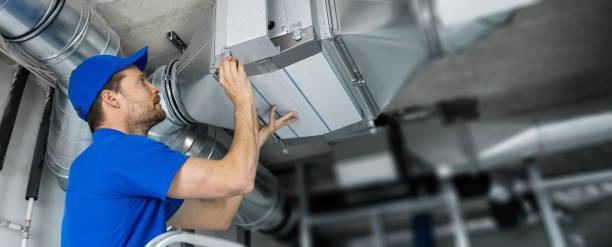 12 2022
5 Furnace Problems That Can Easily Be Prevented - By Furnace Repair Services Experts
Our Furnaces are the single most important appliance in our home that helps us stay comfortable and warm in the winter, due to which they often require furnace repair services.
It is very common for us to neglect our furnaces as they are mostly out of our sight, but when the winter season approaches or is near, it is very important for you to ensure that your furnace is in good condition to keep your space cozy and warm for another season.
You must look out for common furnace problems to avoid furnace repairs as much as possible, as it is not easy to find a reputable HVAC company for furnace repair problems. However, to make this task easier for you, we have listed some easy-to-follow tips in our blog so that you can find the best HVAC company in your area to get your furnace repaired. If you'd like to read our blog on it, you must visit the link, and for the best HVAC Repair And Maintenance services in Blairsville, GA, trust none other than Waynes Heating And AC.
We at Waynes Heating And Ac have a team of expert servicemen who will solve all your HVAC problems instantly. Customer satisfaction and well-being are what we strive for, and as furnace repair services experts, we will mention some of the most common furnace problems that you must look out for in order to ensure that you do not face any furnace problems this winter season and to help you avoid any kinds of furnace repairs or replacements, so keep reading the blog if you want to make the most of your furnace.
The 5 Most Common Furnace Problems That Can Be Avoided
Faulty Air Flow
Faulty airflow is the most common problem that people face when it comes to furnace repair services. When the flow of air is poor, it makes your furnace work harder than it usually does without even making your space as warm as it should. The problem of faulty air often occurs because of dirty filters, as filters are there to prevent pollutants, allergens, and dust from entering the air. When the airflow starts making issues, it may indicate that the filters need replacement or there is a problem with the blower and the motor, which needs your attention. In either case, it is best to call an HVAC technician who can come and inspect your furnace for you, and in order to avoid this problem, you shall change your furnace filters at least every month or two, or you can avail of monthly HVAC maintenance services.
Damaged Heat Exchanger
This one is dangerous, not only for the furnace but for your family as well. According to the HVAC repair and maintenance experts, if the furnace is not properly taken care of, there are chances that cracks may develop on the furnace's heat exchanger, which leads to the seepage of carbon monoxide, which is not good for health.
Problems With Thermostat
You must look out for thermostat issues, as these issues can be as serious as throwing off your entire heating system. Although it may not always be as serious, sometimes the problem is as simple as a poor connection or a dead battery but sometimes there are issues with calibration, wiring, and settings that require the attention of professionals.
Issues With Blower Belt
You may get to hear weird noises from your furnace. If it is a screeching sound, it is most probably from your furnace's blower belt. Oftentimes, the blow belt misses its place and starts making a screeching sound. This is not a serious problem as a technician can easily black it back to where it should be. However, the main concern is the wear and tear of the blower belt. If this problem happens often and is not taken care of properly, it may be that you will have to get the blower belt replaced.
Pilot Light And Ignition Problems
The starting mechanism of any furnace helps to start it. If there is a problem with the pilot light or the ignition, it may prevent your furnace from starting, preventing your space from warming. An HVAC technician will be able to solve this problem and get the heating system back on its track.
So these are some of the common furnace problems, according to furnace repair services experts, that you must look out for. For maintenance and repair services, you must contact us. We at Waynes Heating & AC provide the best HVAC repair services in town. You may visit our website for more information.
This is by far the best Heating and Air company I have ever dealt with. Jeff and Toby are the best in the business! A simple service call turned out to be a new HVAC installation replacement of my 22 year-old unit in just 2 days. The price was very fair and the quality of the workmanship is the best I've ever encountered. Outstanding customer service. Jeff has certainly created a five-star company here.
- Tom Klein