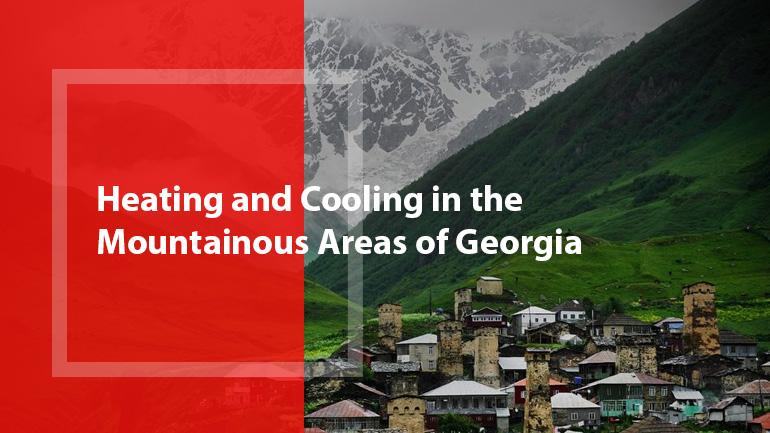 May-15 2020
Heating and Cooling in the Mountainous Areas of Georgia
The mountainous areas in Georgia specifically Blairsville, Blue Ridge and Hiawassee have varying temperatures throughout the year. Although the summers might be considered mild as compared to the other parts of the US, they still reach around 100 F at its peak. During the winters the temperatures are comparatively a bit more extreme given its altitude and that it is a mountainous region. The temperature can drop down to -16 F or even less. Given these variations in temperature, an external form of heating or cooling is still required so that the seasons can be comfortably lived through.
Keeping Warm During the Winter Season
As mentioned, the temperature drop in the winter can be a cause of concern if no heating system is installed in your home or office. The type of heating that you require is largely dependent on the construction material of the building you want to warm up. Residential houses in these areas and some offices can be built from wood. Wood is a natural insulator, hence, having an electric or gas furnace can do the trick and will cost less to maintain and run. If a more modern solution is required a heat pump can do the job just as easily. Either way, the running cost would be comparatively less as wood-based buildings tend to retain heat longer.
If the residential building is of modern design and construction meaning bricks, concrete and/or steel, then they can also be heated using furnaces or heat pumps. The running and installation cost will be higher since the heating equipment will have to work more frequently and longer to maintain the ideal temperature. We offer free advice and/or consultation. This is a great way to know which solution would suit you best. We will get you the best possible solution according to your budget. If required, we have financing options as well. So, get in touch with one of our representatives at Wayne's Heating and Air conditioning now.
Cooling Down in the Summers
Summers do get hot here and at that time an external cooling device such as an air conditioner or heat pump is needed. Again, depending on what type of building needs to be cooled, a suitable option can be implemented. Log cabins can be fitted with a window or a split unit to cool a room down. Even a simple heat pump can be used to cool a room. If the construction of the building is more modern using materials bricks and concrete, then a central air conditioning unit might be more feasible. It will allow the cooling of all the rooms within such a building. This makes it more convenient and cheaper instead of just using a split or heat pump for each room. Also, the type of insulation used or not used in the construction of a brick building will affect the running and installation cost and this will vary for each type of air conditioner. The best thing to do is to call us and one of our experts will be able to guide you according to your budget and need. You can reach us at (706) 444-0007 or if you wish to send your query through email please send it to waynesheatingandair@yahoo.com.
Our A/C went out and, though he could not come out that evening because he was so busy, Wayne kindly took the time to walk my husband through a temporary fix so that we did not suffer without a/c. He came the next day and competently replaced a damaged part for a very reasonable fee. We are so pleased with him and highly recommend him!
- Davelyn Vignaud