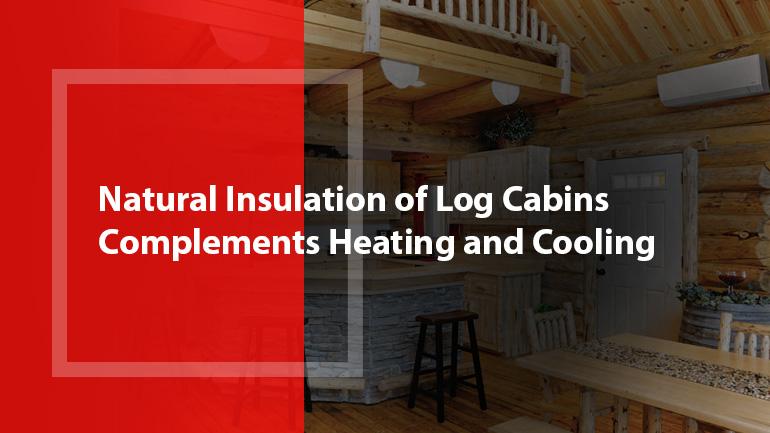 May-13 2020
Natural Insulation of Log Cabins Complements Heating and Cooling
People living in mountainous areas such as Blairsville, Blue Ridge and Hiawassee and its surrounding areas have a comfort advantage as compared to those who live in metropolitan areas. Altitude is one factor and the corresponding temperature is the other. The weather during the winters might be a bit colder but the summers are usually pleasant at night. If the area has forests and similar landscapes, it is even better. The construction of houses and buildings in such areas usually involve timber. Such log cabins are naturally insulated and fare much better at protecting against extreme weather as compared to brick and concrete structures.
Heating in Log Cabins During the Winters
Although they might be comparably better than brick buildings, they still require heating during the winters. The plus point is that the log cabin is naturally insulated as wood conducts heat very slowly. This means that heating a log cabin to the point where it is comfortable is much cheaper as compared to buildings made of other materials. Also, the construction of these log cabins is in a manner that makes it much more airtight than others. What this means is that whatever heating has been done will last much longer. This is another factor that reduces the cost of heating in a log cabin. The catch is even if you are living in such a log cabin, you need to know what heating option is best for you and will match your budget? Will it be a furnace? If so, what type will it be – gas or electric? Some people can get a heat pump which is a cheap option it uses a relatively small amount of electricity resulting in lower bills. Anyhow, it is best if you contact the local heating company like Wayne's Heating and Air conditioning which offers its services in the mountainous areas of Blairsville and the surrounding regions.
Cooling Your Cabin in the Summers
Although the summers are milder here as compared to other areas of Georgia. Still during daytime in the peak months of summer a little air conditioning is essential to keep comfortable. If your residence is in a log cabin, you're in luck as the cost of maintaining a cool temperature within that will cost less. Wood being a bad conductor of heat means it's a good insulator. So, if you cool up your home with artificial means it will stay cool for a longer duration. There are several options available from a window air conditioner to a split or a simple heat pump. Yes, heat pumps can work in reverse allowing not only to heat an area but also to cool it. What suits you best is dependent on several factors including your budget. For free advice on what will suit you best get in touch with us.
About Wayne's Heating and Air conditioning:
We at Wayne's have been operating in the Blairsville region for quite some time now. We have customers from Blue Ridge to Hiawassee and the areas in between. Our expert and trained staff can do maintenance work, repair and installation of a variety of heating and cooling equipment. We have options for financing as well. So, call us now at (706) 444-0007 for free advice and consultation.
Jeff did a wonderful job replacing our old ac unit. He was courteous and professional. I had to contact him a couple of times before the install and he always got back to me right away. Great customer service and I highly recommend.
- Toni Hobgood