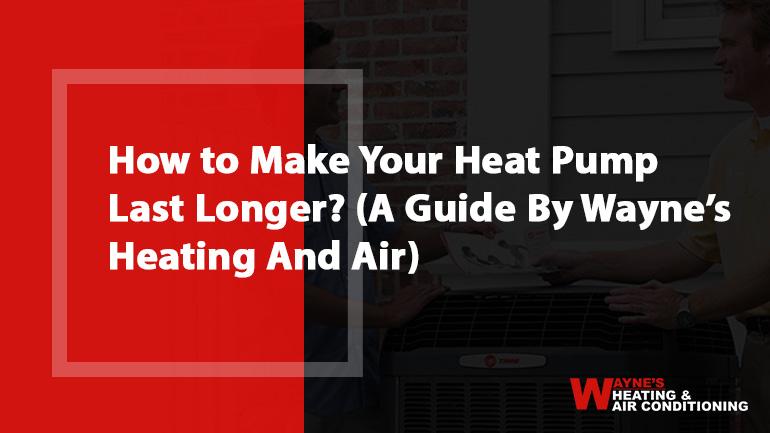 Sep 2021
How to Make Your Heat Pump Last Longer? (A Guide By Wayne's Heating And Air)
Heat pumps, just like any other heating or cooling appliance, cost a lot of money. So ideally, homeowners want to make their heat pumps last as long as possible without losing efficiency. While it is evident that proper care is the key to making your heat pump last longer, the exact care needs of a heat pump are not so obvious. We at Wayne's heating and air try to help homeowners make their appliances last as long as possible. Our services department is committed to providing repair and maintenance services to ensure that your heat pump operates optimally. We use different methods to ensure that your heat pumps aren't wearing out prematurely. So if you are wondering exactly how you can make your heat pump last longer, then this article is all you need to read. We will explain different ways to prolong the lifespan of a heat pump, so read on.
How to Increase The Useful Life of A Heat Pump as per Air Conditioning Repair Companies?
Air conditioning repair companies like us are always here to ensure that your heat pump is in great shape. However, as homeowners, you can also play your part in ensuring that your heat pump lasts longer. And without further ado, here is how you can increase the lifespan of your heat pump:
Keep the outdoor plant life in check: Your heat pump's outdoor unit needs to be able to transfer heat or cold from the outside air to inside your home. However, it can't move the heat/cold properly unless the outdoor unit is completely open and uncovered. Any vegetation growing around or directly on the outdoor unit can hinder this process and render the heat pump incapable of doing its job. Not to mention that twigs and leaves can get stuck in the outdoor unit and slowly damage it to the point where it reduces the unit's lifespan. So our expert heat pump technicians recommend trimming down any bushes or tree branches that may be too close to your heat pump's outdoor unit. If you need to have plants near your heat pump's outdoor unit, make sure that there is a clearance of at least 4 feet between the plants and the machine to minimize the risk of damage.
Keep an ear out for strange noises: Heat pumps are usually quiet in their operation, which is part of the reason why HVAC companies such as us recommend them instead of furnaces. However, when your heat pump starts to get noisier than usual, chances are there is something jammed inside the unit. As mentioned earlier, this can be due to a foreign object such as twigs and leaves from nearby trees or any other unwanted items stuck inside. If your heat pump starts giving off strange noises, turn the unit off and contact our services department for assistance.
Regular heat pump inspections: Of course, prevention is the best cure, and you would want to prevent serious issues before they arise. Regular checks by our heat pump experts can catch and fix minor problems with your unit before they turn into serious ones. Not to mention regular maintenance is the key to the prolonged operation of your heat pump.
If you are looking for air conditioning repair near me, contact us directly.
We have used them for many years. They are the best in town.
- Michele Tetro Conlin