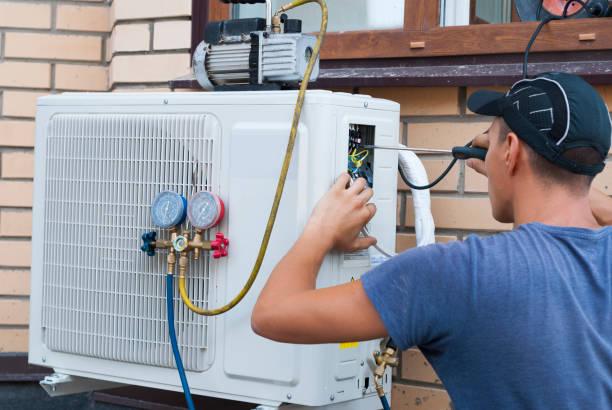 October 2022
How To Select The Perfect Air Conditioning Repair And Installation Services For Your Needs?
With rapid fluctuations in weather, it has become the need of the hour for many people to find a reliable Air conditioning repair and installation service. Whether live permanently or shifted recently to Blairsville, GA, Waynes Heating & Ac are your guys to call.
Waynes Heating & Ac installation and repair experts are very well-known to provide exceptional services to Blairsville, GA, and its surroundings including areas of Blue Ridge and Hiawassee.
Air conditioning is a necessity during the summer season, especially for the long and warm summers of Blairsville, GA. It is very important to select an air conditioning repair and installation service that's authentic and genuine. And even with winter around the corner, it's good to get a check-up on your heating units and get your old ones repaired.
But how will you know that you selected a trustworthy and reliable HVAC expert?
A good heat, ventilation, and air conditioning expert (HVAC) know exactly what you need to get that air conditioning or heating unit back to running like new.
We can provide you a full fledge list of what to check in your air conditioning repair and installation service expert to prevent getting scammed.
These 3 major pointers are your easy guide, so read on;
Check Company's Location
Don't you get frustrated when you are trying to reach any HVAC expert and they keep on delaying their visit?
Well, an easy solution for that is to find an air conditioning installation and repair service expert near you!
Finding a reputable yet reachable HVAC expert is a big blessing. You can acquire all the services to their fullest potential. You don't have to wait long days to get your air conditioning fixed and contact is also easier than before.
Waynes Heating & Ac are experts in providing top-notch air conditioning repair and installation services. One call away for residents of Blairsville, GA, and its surroundings, we provide all types of HVAC services.
Having an uncertified person handle and repair your unit can cause serious complications resulting in the replacement of the units. But with our completely professional and certified service providers, you can leave all your worry aside and enjoy getting your units repaired in the comfort of your home.


Go Through HVAC Installer's Website
Another thing to pay attention to is checking out the installer's website. In this digital age, every brand has a website where its services are specified properly. You must give a good look at your air conditioning installation and repair company's website and check for what services they are providing.
Not every shoe can fit you, so you need to find the right fit for you. Having an expert installer who also provides the services you need is a plus.
Just like when you visit the website of Waynes Heating & Ac, you can easily look at separate categories of services and products provided by us. A clear web interface aids users' ease and allows them to acquire your services easily.
For everyone having a residency around Blairsville, GA, they can get air conditioning installation and repair services from Waynes Heating & Ac, who provide quality services like;


AC Installation

AC Repair and Replacement

AC Service

Heating Pumps

Furnace Repair and Replacement
And much more after vigilantly deciphering all your repair and installation needs. This way you can get the right service providers that also offer what you need.
lCheck for Reviews or Testimonials
Online reviews are just like digital word of mouth but play a great role when it comes to deciding upon acquiring a certain service.
The same is the case with air conditioning installation and repair services. If any company is willing to share its customer reviews on its website or social media platforms, it means they value its customers and their suggestions.
Customer testimonials are a great way to know what your target audience wants, it can also help you get an idea about what's the quality of service.
If a good chunk of testimonials or reviews of satisfied customers and their experiences are shared publicly by the repair and installation company, it shows the credibility of the service providers and that they have nothing to hide.
All such double-checks can help you land on an expert air con repairer and installer who gives you the best value for your money.
We always want our customers to be seen and heard and for this, Waynes Heating & Ac proudly display their customer's reviews on the brand's website to show our customers how much their suggestions mean to us.
Conclusion:
Waynes Heating & Ac is not only a Blairsville, GA favorite by chance but it provides exceptional air conditioning repair and installation services to our new and potential customers in its surroundings.
We believe in creating a family-like bond with our customers. We also offer a 10% discount to first responders and veterans in Blairsville, GA, and its surroundings. Contact us to get hassle-free service even without an appointment.
Our A/C went out and, though he could not come out that evening because he was so busy, Wayne kindly took the time to walk my husband through a temporary fix so that we did not suffer without a/c. He came the next day and competently replaced a damaged part for a very reasonable fee. We are so pleased with him and highly recommend him!
- Davelyn Vignaud