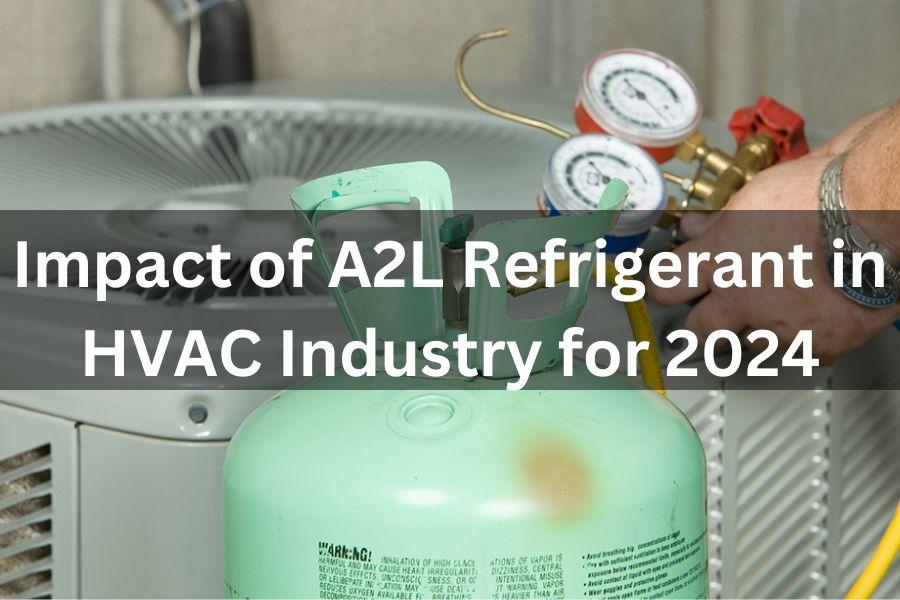 October 2023
Impact of A2L Refrigerant in HVAC Industry for 2024
In today's world, adopting A2L refrigerants in the HVAC industry holds significance towards environmentally friendly and sustainable practices. Being positioned as a safer alternative to high-GWP refrigerants, regulatory bodies globally are steering the industry.
Additionally, beyond compliance, these refrigerants contribute to improved energy efficiency and overall system performance. That makes them a preferred choice for manufacturers and consumers alike. But that's not all. The transition is driving technological advancements, with innovations in compressor technology, heat exchangers, and system controls.
Despite being mildly flammable, rigorous safety standards and training programs ensure the secure handling of A2L refrigerants. The global adoption of A2L refrigerants reflects a growing trend towards sustainability, with manufacturers aligning their offerings in order to meet the demands of eco-friendly HVAC systems.
In this blog, we will explore the impact of A2L refrigerants in the HVAC industry and what it means for the year 2024 and beyond.
What Are A2L Refrigerants?
A2L refrigerants, classified as mildly flammable, represent a safer alternative to high-global warming potential (GWP) refrigerants like R-410A. Interestingly, these refrigerants strike a balance between efficiency and environmental impact. Most importantly, it aligns with global efforts to reduce greenhouse gas emissions.
Emphasizes Environmental Sustainability
Are you looking to emphasize environmental sustainability? Then, you should know that regulatory bodies around the world are pushing for the adoption of low-GWP refrigerants. The reason behind this is that their lower GWP, compared to their predecessors, is becoming a focal point in regulatory changes.
Energy Efficiency & System Performance
Want a refrigerant that meets all environmental regulations? Then you should get A2L refrigerants as it also contributes to improved energy efficiency and overall system performance.
Additionally, they are designed to maintain or enhance efficiency while minimizing the carbon footprint. This makes them a preferred choice for both manufacturers and consumers.
Driving Innovation & Advancements
Yes, you're right! The adoption of A2L refrigerants is driving innovation and has redefined the world of HVAC technology. Manufacturers around the world are inclined towards investing in research and development to create systems that optimize the use of these refrigerants. Such as improvements in compressor technology, heat exchangers, and system controls to maximize efficiency and safety.
Safety Considerations
Yes, the industry is currently witnessing a paradigm shift in safety protocols to accommodate new refrigerants. The A2L refrigerants are classified as mildly flammable, with extensive safety standards. HVAC professionals are required to undergo specific training to work with A2L refrigerants safely.
Global Adoption & Market Trends
As the industry moves toward sustainability, the adoption of A2L refrigerants is becoming a global trend. Manufacturers, suppliers, and HVAC service providers are aligning their offerings with the changing market dynamics.
The availability and variety of A2L-compatible HVAC systems are expected to increase. It provides consumers with more choices that meet both performance and environmental criteria.
Consumer Awareness & Demand
As you witness, with growing awareness of environmental issues, consumers are becoming more environmentally conscious in their choices. Therefore, the demand for HVAC systems that use eco-friendly refrigerants is on the rise. The A2L refrigerants, being a part of this green revolution, are likely to see increased demand as consumers prioritize sustainability.
Transition Challenges
While the transition to A2L refrigerants holds promise, it is not without challenges. The industry is grappling with the need for infrastructure upgrades, training programs, and changes in manufacturing processes.
These challenges, however, are seen as temporary hurdles on the path to a more sustainable and efficient HVAC industry.
Final Thoughts
All in all, the impact of A2L refrigerants on the HVAC industry in 2024 and beyond is profound. It is not just a shift in refrigerants; it signifies a broader commitment to sustainability, energy efficiency, and environmental responsibility. So, if you're looking to embark on a journey towards a greener HVAC future, you should choose a reliable and leading company, such as Wayne's Heating & Air.
Whenever you require a new installation or assistance with an existing unit, feel free to get in touch with us at (706) 444-0007 to schedule an appointment. If you prefer email communication, reach out to us at waynesheatingandair@yahoo.com. Contact us today and discover why individuals have entrusted us with their HVAC needs.
Wayne was a very nice guy. He was on time with quotes and installation. He did about 5 years ago.
- AbrB Services, Corp.