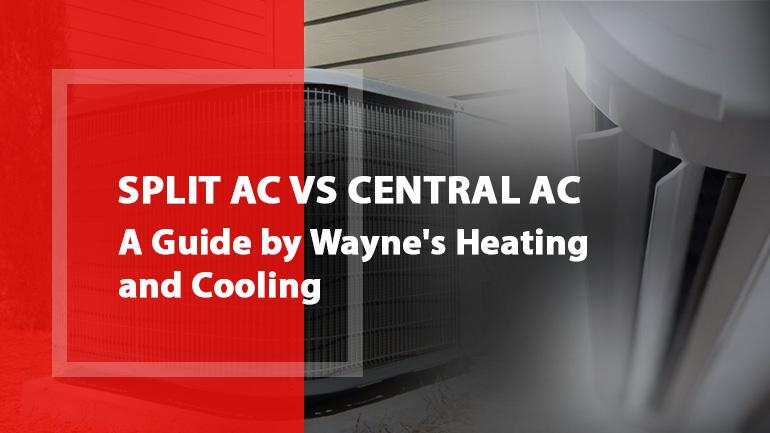 Sep 7 2020
Split Ac Vs. Central AC A Guide by Wayne's Heating and Cooling
Summer heat makes everyone uncomfortable and the best way to find comfort in hot summers is by turning on your AC. However, when it comes to picking the correct type of AC for your space, a lot of people get confused. At Wayne's heating and cooling, we help our customers in planning and picking the right kind of air conditioning for their home or commercial property. One of the most common questions people ask when they are looking to buy an AC is "do we need a split AC or central AC?" This question is why we have put together this guide to help you pick the type of AC that suits your needs, so keep reading. We will go over different factors that affect customers buying decisions and help you choose one that fulfills your requirement.
Maintenance and Regular Visits from Air Conditioning Repair Companies
Maintenance cost is a factor not many consider when buying an air conditioning system. We at Wayne's heating and cooling frequently come across property owners who don't actually know the maintenance cost of the air conditioning system they are buying. Maintenance cost and how often you will need visits from air conditioning repair companies varies depending on whether you buy a split or central ac. While we only recommend regular cleaning of the filter for a split AC, a central AC, on the other hand, will require annual maintenance including tune-up, duct cleaning, filter cleaning, there might be other things as well. So if you are looking for a low maintenance air conditioning solution, a split AC is right for you. Our expert staff specializes in maintaining and repairing both central and split units, and we also offer installation services.
Space Considerations When Picking Split or Central Ac
The most obvious problem when picking between split AC or a central HVAC system is space availability. As a central HVAC system requires a duct network to circulate air throughout the house or commercial property, it requires space in between walls for ducts to be placed. Because of this duct network, the walls of the place need to be kept wider and the living space shrinks. However, on the other hand, a split AC doesn't require more expansive walls because there are no ducts needed for the split AC. Not to mention if you don't already have a duct network in your building, it is going to be extremely difficult to install a central AC. We at Wayne's heating and cooling can help you in the installation of the duct system to maximize space while maintaining the cooling efficiency of a central AC.
Considering How Much Area You Need to Cool or Heat
When it comes to larger areas that need cooling, the central Air Conditioner is a clear winner. Split ACs can only cool a limited space depending on its cooling capacity. If you have to cool large open halls or multiple rooms, a central AC will do the job more efficiently. On the other hand, you will have to install multiple split AC's in the different rooms or if you want to cool a large area, which is simply not efficient.
Considering the Aesthetic Factor
Split AC's have an indoor unit that is mounted on the wall of the living space or room it is meant to cool. These units can be large and there is no way to hide them. So, if you are looking for an air conditioning solution that is not visible, you should go with central AC.
If you are still confused about which air conditioner type would suit your needs? Wayne's heating and cooling can help you pick the correct air conditioning. We can also provide installation and maintenance services. So, no need for further searches for HVAC repair near me.
This is by far the best Heating and Air company I have ever dealt with. Jeff and Toby are the best in the business! A simple service call turned out to be a new HVAC installation replacement of my 22 year-old unit in just 2 days. The price was very fair and the quality of the workmanship is the best I've ever encountered. Outstanding customer service. Jeff has certainly created a five-star company here.
- Tom Klein