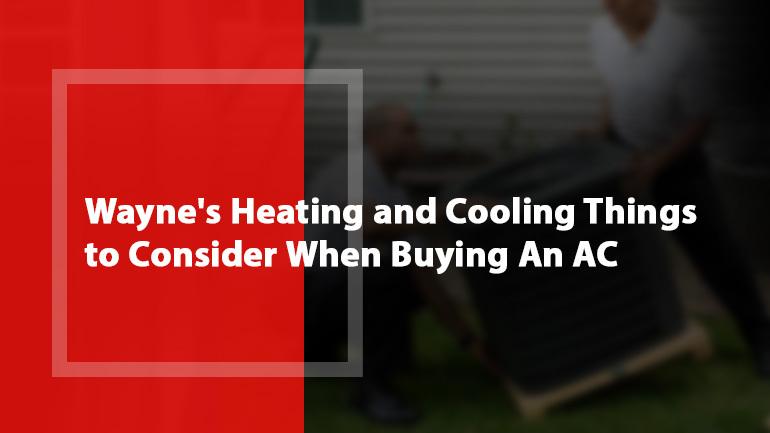 Sep-27 2020
Things to Consider When Buying An A/C
With the rapid advancement in science and new technologies, many modern devices and electrical appliances are getting more and more popular and even becoming a necessity. All of them play a crucial role in offering convenience and making the lives of human beings more comfortable. Among all such home appliances, one of the most popular is the air conditioner. With the rise of temperature due to global warming, they are becoming a basic necessity to live comfortably. Today, modern air conditioners are designed so that they meet both cooling and heating requirements. They regulate and maintain the warmth or cooling of an enclosed area according to their capacity and climate control systems. At Wayne's heating and cooling, we provide the three most common types of AC that are
Central air conditioners
Split air conditioners
Window air conditioners
You can get them from us at reasonable rates. Our professionals also help and guide customers in procuring the correct type of AC according to their needs and budget.
Things to Consider Before Buying an Ac
Below are some of the essential considerations that one should go over before buying either type of air conditioner from any of the air conditioning repair companies:
1. Space Considerations
The most obvious thing to consider before buying any central HVAC system or split AC is the space available to install it. Installation of a split AC does not require much space because it does not need any ducts to maintain indoor air quality and temperature. On the other hand, a central HVAC system requires a complete duct network to circulate the air within a building. All the ducts need proper space for their adjustment in between the walls.
2. Area of cooling and heating
Another significant point for considering while buying an air conditioner for your living space or commercial property is the size of the area you need to cool or warm. Split ACs are more efficient in regulating the temperature of the surrounding in a single room. While if you want to cool a big area or multiple rooms, then central HVAC systems are more effective.
3. Decoration purpose
The decoration or the overall appearance of your room and house matters a lot. Air conditioning manufacturers have picked up the same; they are also focusing on their air conditioners' aesthetics. The wiring and ducts of central air conditioners may affect your home's neat and tidy look if not correctly installed. If we talk about air conditioners, Split ACs consists of an indoor unit and an outer. The indoor unit is mounted on the room wall, while the outside unit extracts the warm indoor air and expels it outdoors; however, both are large and you cannot hide them. However, central ACs get easily adjusted in the walls. Their ducts are adjusted smoothly in between the walls.
Which of The Several Air Conditioning Repair Companies Is The Best?
In Georgia's mountainous areas, there is an immense variation in the temperature throughout the year. So, many air conditioning companies provide their air conditioners and services to their residents in these areas. Among all such companies, Wayne's heating and cooling company is one of the best. That is because we maintain our customers' trust by providing them reliable products like air conditioners, heat pumps, gas furnaces, and their installation services. In addition to that, our professional experts also provide regular maintenance and repair services at the client's request. We are confident that if anyone searches for affordable HVAC repair near me, they will find us in the top results. So, contact us now and see why people love to choose us for their HVAC needs.
This is by far the best Heating and Air company I have ever dealt with. Jeff and Toby are the best in the business! A simple service call turned out to be a new HVAC installation replacement of my 22 year-old unit in just 2 days. The price was very fair and the quality of the workmanship is the best I've ever encountered. Outstanding customer service. Jeff has certainly created a five-star company here.
- Tom Klein