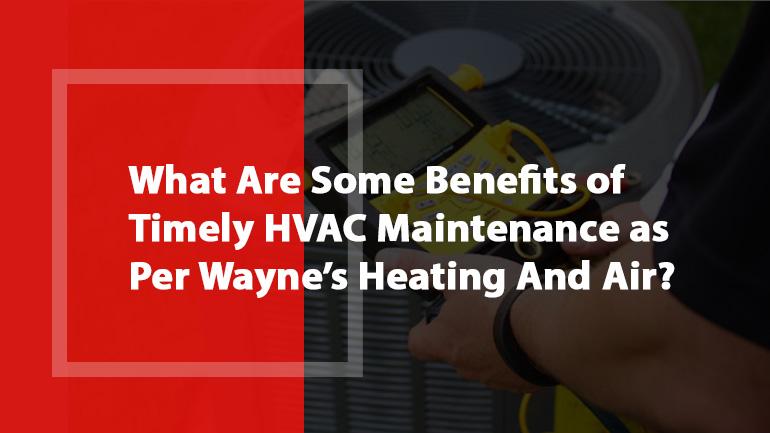 June 15 2021
HVAC company near me
An HVAC (Heating, Ventilation, and Air-conditioning) is considered an essential requirement for any home, especially in Georgia. Your HVAC is you and your family's defense against extreme cold and, more importantly, the summer heat. At Wayne's Heating and Air, we have been providing HVAC maintenance and repair services in areas around Blairsville, and we understand its importance for a home. And we recommend timely repair and maintenance of the air-conditioning unit so that it will not start underperforming in the middle of the summer. Our HVAC maintenance team at Wayne's Heating and Air has seen situations when otherwise Okay units can't perform to their full potential due to a poor maintenance schedule. So to make sure that homeowners understand the importance of timely HVAC repairs, we have created this helpful article, and we suggest you read on.
Reasons to Get Your HVAC Maintained by an Air Conditioning Maintenance and Installation Company
Like you wouldn't let your car run with bad engine oil and air filters, letting an HVAC run without proper care and maintenance can reduce its lifespan. On the other hand, an HVAC unit maintained by a professional installation company is going to serve you for years to come without losing its performance. So without further ado, here are some reasons why you should get your HVAC maintained regularly:
Monetary savings: An HVAC that our expert team has maintained will retain its efficiency and save you a lot of money in terms of energy bills. When an HVAC unit such as the air-conditioner runs, it starts to accumulate dust and other debris, and over time this debris can clog up the filters and make it run harder, resulting in higher energy bills. However, our team can ensure that your HVAC is working correctly without any clogged filters and it is not running more than necessary. This was just one example of how proper maintenance could make your air-conditioner run smoother and save you on energy bills. We also lubricate different components and fix any minor issues during maintenance to ensure the efficiency of your HVAC unit.
Better air quality: Another reason for getting your HVAC maintained regularly is to ensure good air quality inside your home. By cleaning filters, ducts, coils, and other components, we make sure there aren't any harmful particles accumulated inside the system that can affect air quality. Something as simple as regular cleaning and maintenance by HVAC companies can save you and your family from respiratory issues and allergies.
No unexpected breakdowns: HVACs are not delicate machines, and they are meant to last a long time. However, when an air-conditioner has been neglected in the past in terms of regular maintenance can break down. That is because components of your HVAC are under constant stress during months of summer, and proper care can take some pressure off of the components to extend their lifespan. Not to mention the parts we use to replace old ones are authorized components supplied by the manufacturer of your HVAC to ensure proper functioning in case of repairs.
Are you looking for an HVAC company near me online but can't find a reliable company? Just give us a call, and we will be at your doorstep in no time.
Wayne was a very nice guy. He was on time with quotes and installation. He did about 5 years ago.
- AbrB Services, Corp.