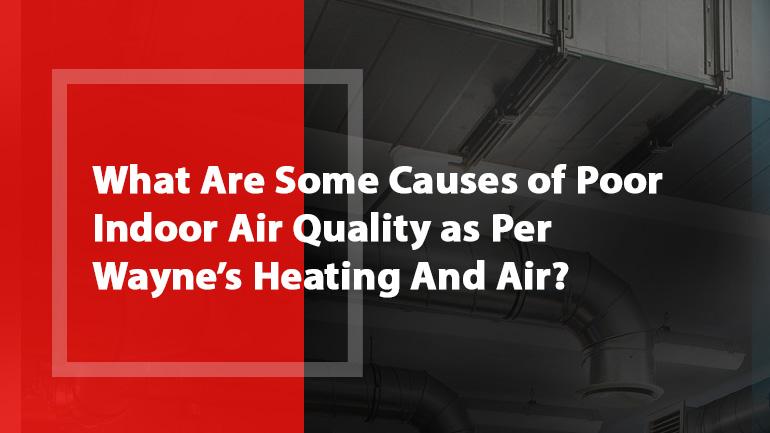 June 6 2021
What Are Some Causes of Poor Indoor Air Quality as Per Wayne's Heating And Air?
Homeowners go to great lengths to maintain a clean and healthy indoor living environment. However, cleaning your home might not be enough to keep a healthy indoor space because some types of pollution might not always be visible. At Wayne's Heating and Air, we have been providing heating and air conditioning services along with indoor air quality improvement services for many years. During this time, we have realized that many homeowners ignore the indoor air quality of their homes even though it can have a significant impact on their family's health. Our air quality experts at Wayne's Heating and Air are equipped with the skills and equipment needed to maintain healthy indoor air quality. However, many homeowners dealing with poor indoor air quality aren't sure about the causes of poor indoor air quality to manage these issues. So, to help anyone who is wondering about the common causes of indoor air pollution, we have created this helpful article, and we suggest you read on.
Causes of Poor Indoor Air Quality as Per Air Conditioning Repair Companies
Top air conditioning repair companies, including us, closely evaluate the air quality of homes we get called in before suggesting solutions. While there are many causes of poor indoor air quality, some are more common than others. So, without further ado, here are some common causes:
Cleaning products: While cleaning products are meant to disinfect and clean your indoor space, they may also get mixed into the indoor air and cause allergies. Spray-based cleaning products are especially notorious for adding to indoor pollution.
Carpet dust: Carpets are notorious for collecting dust and other allergens. When the carpet fabric is disturbed, the dust and other particles are released into the air resulting in poor air quality. HVAC companies are often called in to address poor air quality to realize that homeowners have carpets in most areas of the room, adding to poor air quality.
Lack of ventilation: If your home ventilation system is not working correctly or has stopped working altogether, the air in your home becomes stale. The role of the ventilation system is to move allergens, dust, and other unwanted particles out of your home and keep the indoor air clean. However, when the ventilation becomes weak or stops altogether, you will notice increased indoor pollution. We often have to fix any blocked ducts in the ventilation system of homes with poor indoor quality to reduce indoor pollution.
Candles and incense: If you use incense or candles in your home and have been experiencing poor indoor quality, then it might be a good idea to get a visit from our air quality experts. While not always the case, some types of candles and incense often release particles in the indoor air that can irritate sensitive individuals.
Mould and bacteria: Mold, animal dander, dust mites, viruses, and bacteria are the most common types of biological pollutants that can negatively affect your home's indoor air quality. These pollutants are often found in homes with excess humidity, so it is good to install dehumidifiers to manage indoor humidity.
Looking for an air conditioning repair near me on Google but can't find any reliable companies? Just call us, and we will schedule a visit with you in no time.
Had complete heating and air replaced recently by Jeff and his crew. Showed up on time as scheduled. A good product and fair price. Gets back to you timely by phone or text. Highly recommend Wayne's HeTi h and Cooling Thanks Jeff
- David Nadeau