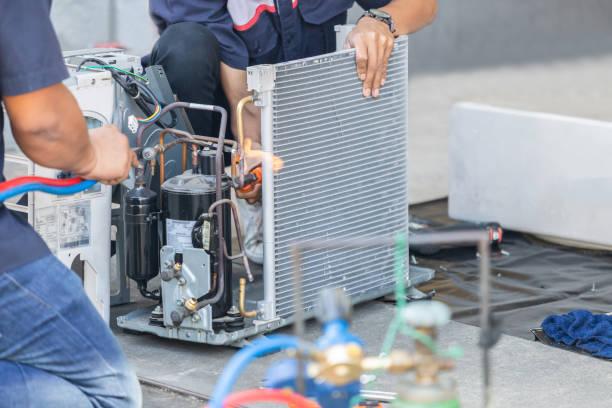 04 2023
Why Customer Service Matters: The Best HVAC Companies Put You First
When it comes to choosing an HVAC company, most people focus on the quality of their equipment or the price of their services. However, one important factor that should not be overlooked is customer service. The best HVAC company prioritizes its customers and understands the importance of providing exceptional service.
Here are some reasons why customer service matters and why the best HVAC companies put you first:
Reasons Why Customer Services Matters to the Best HVAC Companies
Communication is Key
Good communication is essential in any business, and HVAC companies are no exception. The best companies make sure to communicate clearly and effectively with their customers, from the initial consultation to the final service call. They provide clear explanations of their services, pricing, and any necessary repairs. They also make sure to answer any questions or concerns you may have along the way.
Expertise and Professionalism
The best HVAC companies prioritize their technicians' training and expertise, ensuring that they are knowledgeable and skilled in their work. They also prioritize professionalism and courteousness in their interactions with customers. This means arriving on time, being respectful of your home and property, and maintaining a clean and tidy work area.
Personalized Service
Every customer is unique, with different needs and preferences. The best HVAC companies understand this and provide personalized service to meet your specific needs. This includes working with you to determine the best HVAC system for your home, offering flexible service options, and customizing their services to fit your schedule and budget.
Timely Response and Availability
HVAC emergencies can happen at any time, and the best companies for heating and air conditioning repair understand the importance of timely response and availability. They offer 24/7 emergency services, so you can get the help you need when you need it. They also prioritize scheduling flexibility, so you can schedule routine maintenance or repairs at a time that works for you.
Customer feedback
The best companies for HVAC services take customer feedback seriously and use it to improve their services. They may conduct surveys, ask for online reviews, or provide follow-up calls to make sure that their customers are satisfied with the work that was done.
Emergency services
HVAC issues can arise at any time, day or night. The best North Georgia heating companies offer emergency services to their customers so that they can get their systems up and running again as quickly as possible.
Customer Satisfaction
The reputed HVAC companies prioritize customer satisfaction and understand that happy customer is the key to their success. They go above and beyond to ensure you are satisfied with their services, offering guarantees and warranties on their work. They also encourage customer feedback and take it seriously, using it to improve their services and ensure customer satisfaction.
In conclusion, customer service is an important factor to consider when choosing an HVAC company. The best HVAC companies prioritize their customers and understand the importance of providing exceptional service. Not only this, but reputed HVAC companies also take care of other important things, such as they hire experienced and well-qualified technicians so that they can handle any HVAC issue that may arise. They also use quality parts and tools in all of their installations and repairs. This not only ensures that the work is done correctly the first time but also helps to prevent future problems from arising. So whenever you choose a company for HVAC services, you must ensure that you consider all of the things mentioned above in the article.
At Wayne's Heating & Air, we put our customers first and strive to provide the best HVAC services in the industry. Not only this but our servicemen are well-experienced and highly qualified. We use advanced tools and quality parts to ensure the best service in town. If you would like to learn more about us and the HVAC services that we offer, you may visit the link.
If you would like to avail any of our HVAC services, you may contact us to book an appointment with one of our servicemen or visit our website for more information.
Jeff did a wonderful job replacing our old ac unit. He was courteous and professional. I had to contact him a couple of times before the install and he always got back to me right away. Great customer service and I highly recommend.
- Toni Hobgood