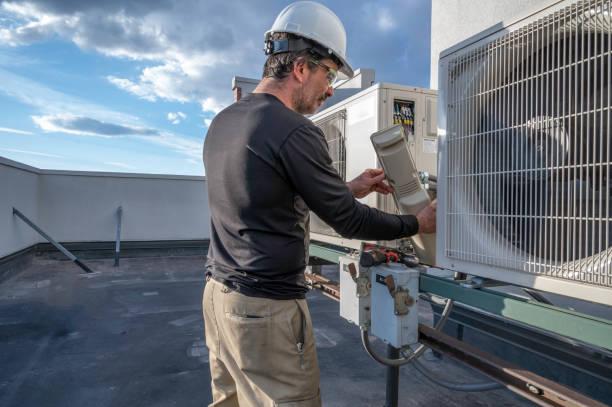 June 2022
GA Air Conditioning Repair- Difference a Professional Makes
Repairing an air conditioner promptly is critical to avoid difficulties down the road with your system. You never want your air conditioning to fail at the worst possible time. Hiring a professional for any form of GA air conditioning repair is the best way to swiftly and effectively restore your indoor comfort. Having an air conditioning problem diagnosed and repaired by a professional will save you money in the long run and alleviate your tension and inconvenience.
You can avoid a lot of the stress of trying to find an air conditioning installation service at the last minute if you schedule your repairs in advance.
Also, these last-minute fixes are never a good idea because they are not just short-term fixes but can also do more harm! The technician will be unable to investigate the issue due to a lack of time thoroughly.
We'll help you decide if you need a new system or just a simple repair.
Consider the following factors to see why you need a professional for repairs:
5 Reasons You Need A GA Air Conditioning Repair Service

Cost Control
A common reason for putting off air conditioning maintenance is the belief that the issue is too minor to warrant calling in the pros. However, if these seemingly minor issues are not addressed promptly, they can quickly escalate into more costly and dangerous situations.
Many people who need air conditioning repair in Blairsville, GA, ignore minor issues with their air conditioners, such as insufficient cooling or a compressor that makes a noise when switched on.
When these "minor difficulties" are not addressed by an expert HVAC technician promptly, it can escalate to a more time-consuming, expensive, and serious situation down the road.
As a result, having a Blairsville, GA air Conditioning repair business analyze your system, find the issues, and fix them promptly is extremely vital so you and your family can enjoy the fresh and cool air.
Increased AC Life
Several Georgia air conditioning repair firms offer annual and bi-annual tune-ups and maintenance drills. Because of these features, HVAC systems have a longer operational life and are less likely to break down prematurely.
It takes a lot of pressure to get the most out of air conditioning systems because they are constantly running. A/C systems, like any other mechanical device, require routine maintenance to keep them running properly and efficiently. When HVAC systems aren't properly maintained, they're more likely to break down. To extend the life of one's air conditioning system, one should hire a competent GA air conditioning service.
Maintaining the air conditioner regularly helps extend its lifespan and increase its working capability. Keeping your HVAC system held annually will save you money on your energy costs because worn-out equipment uses more energy to operate.
Better Air Cooling
Some areas of a home receive more cooling than others which is a common problem. This is because air conditioning devices generate and circulate cool air through a series of internal processes.
It is also necessary to regularly maintain the air conditioner's internal components to ensure that they are clean and well-oiled to work effectively. Homeowners sometimes complain that their homes are too stuffy because they don't bother to do the simplest of cleaning jobs.
GA air conditioning repair services ensure that the complete cooling system operates at peak efficiency. To create a more pleasant and healthy environment for breathing, they clean the equipment of any mold or dirt.
As long as the filtration system is kept in good working order, carbon dioxide will not be able to enter the home through the cooling vents.
Guaranteed Services
If something goes wrong during the AC repair process, you will not be held financially accountable if you hire an insured and licensed technician. For example, a licensed AC contractor has proven well-versed in their field by passing dozens of tests. If something goes wrong during the repair, you may not be covered by your homeowner's insurance policy if you use an unlicensed HVAC technician.
Professional Advice
You receive more than just a basic fix when you engage a professional for air conditioning repairs. After arriving, a professional will do a comprehensive assessment of your HVAC system to determine the problem you're having and also to identify any potential issues that may be present. Although many of these issues may not be directly responsible for your current failure, they can all lead to more serious concerns in the future. As a result, in addition to receiving immediate air conditioning repairs, you'll also get advice on avoiding such issues in the future.
Is it possible that this air conditioner repair indicates a problem? Is your air conditioner overworked, or does it need to be cleaned more frequently? Hiring a professional to assist you with your repairs will provide you with the answers to these and other concerns.
Final Thoughts
Professional GA Air Conditioning Repair companies have several advantages over those who attempt to fix their own AC systems or hire someone who advertises online but lacks knowledge in AC repairs. There are just a few reasons to hire a professional for all of your AC repair needs—including aid with your most recent AC problem—to consider. Call Wayne's Heating and Air Conditioning today to learn more about our air conditioning installation service.
Had complete heating and air replaced recently by Jeff and his crew. Showed up on time as scheduled. A good product and fair price. Gets back to you timely by phone or text. Highly recommend Wayne's HeTi h and Cooling Thanks Jeff
- David Nadeau