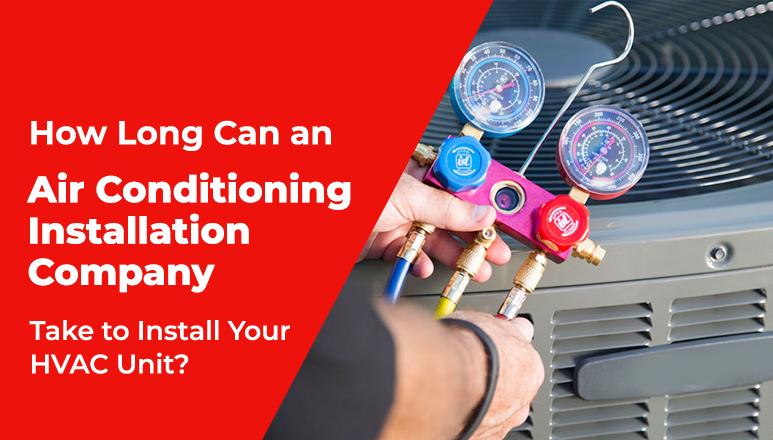 May 21 2021
How Long Can an Air Conditioning Installation Company Take to Install Your HVAC Unit?
For homeowners that travel a lot or have a generally busy schedule, one of the most common questions when getting an HVAC installed is how long the installation can take. While different factors affect HVAC installation time, a reputed air conditioning installation company such as us at Wayne's Heating and Air can install a new HVAC within a day. However, each HVAC installation scenario is different as the houses we install HVACs have different sizes, and there are many kinds of HVAC units. So naturally, the HVAC installation times are affected by factors that are out of our control. To give you a better understanding of how long it can take to install an HVAC at your property, we will explain the different factors that affect the installation time, so read on.
Factors affecting the time air conditioning installation and repair companies can take for HVAC installation
Since HVAC units are different from split AC units, they have special installation needs. While air conditioning installation and repair companies can install a split AC within hours, it is a whole different story for HVAC installation. There is a ductwork and vent network involved in HVAC installation, making HVAC installation a lengthy process. Some factors that affect HVAC installation time are as follows:
The size of your property: If you have a larger property, our HVAC installation team will need more time to install the HVAC unit since more significant properties require more ductwork and, in some cases, multiple HVAC units to be installed. For example, we recommend installing at least 2 HVAC units if your house is bigger than 10,000 square feet in size. However, a smaller home can be adequately cooled using a single HVAC unit and less ductwork. So naturally, the installation time for the HVAC unit will be less if the house is small.
New installation vs replacement: Another factor that affects HVAC installation duration is whether you are replacing an old unit or getting a new one installed. When installing a new HVAC unit in a property where there wasn't one present before, we also have to install the ductwork and vent network that can take a few days to complete. On the other hand, if you are replacing an old central air conditioning with a new one, you are already going to have the ductwork installed, so the installation will take less time. However, in situations where the old ductwork is too worn out and has to be replaced, the duration of installation will increase in such cases.
The layout of your property: Sometimes, the layout of your house can make it difficult for our HVAC team to access the installation location. For example, if your property has high roofs, installing the condenser and the duct network can be challenging, so the installation duration can increase significantly.
If you are looking for an air conditioning service near me but can't find any reputed one, then all you have to do is get in touch with us for all your HVAC-related needs.
We have used them for many years. They are the best in town.
- Michele Tetro Conlin