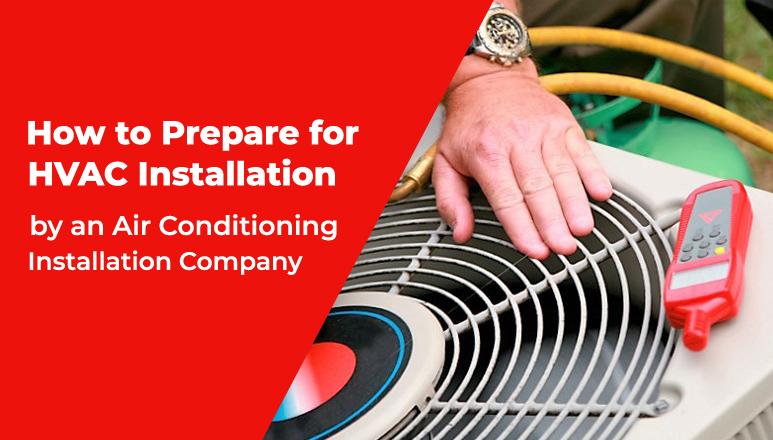 May 21 2021
How to Prepare for HVAC Installation by an Air Conditioning Installation Company?
Whether you are getting an HVAC installed in a new building or replacing the old one, you will need the services of an Air Conditioning Installation Company. A reputed HVAC installation company such as us at Wayne's Heating and Air will ensure that you get the most out of your HVAC unit by giving you a perfect installation. With that being said, property owners can also do their part in making sure they get a proper HVAC installation. By doing some simple prep work before we arrive at your place for HVAC installation, you can not only ensure a proper installation but also keep your property and family members safe. So if you are wondering about how you can prepare for HVAC installation at your property, then you have come to the right place. This article will tell you how you can prepare yourself and your property for HVAC installation, so read on.
Things to take care of before air conditioning repair and installation companies arrive for HVAC installation
HVAC installation is not something you have to deal with often. However, air conditioning repair and installation companies will have an easier time installing your new HVAC if you are just a little bit prepared for it. The preparations we will tell you about don't require any special tools or skills; however, they can have lasting benefits for your home and the new HVAC unit. With that being said, here is how you can prepare for an HVAC installation:
Clear the area for HVAC installation: There are many things at your home or commercial building that can come in the way of HVAC installation. For example, if you have any furniture and decorations or rugs in the area where the HVAC unit will be installed, you would want to move all these things beforehand. Similarly, if you are getting an HVAC installed at your business building, we recommend scheduling HVAC installation on an off day or when there aren't many customers present.
Secure pets and children: If you have pets or children, it is best to keep them away from the HVAC installation as there is always a danger of injury for them. Especially when installing central air conditioning, we recommend homeowners schedule a time when children are either at school or with a family member away from home. That is because central air conditioning installation involves a lot more wear and tear, making it unsafe for children to be around during the installation process.
Clear the outdoor area of your home: Like the indoor installation process, you have to clear up space for the condenser installation. Condensers can be considerable depending upon the size of your HVAC unit; therefore, it is essential to move any vehicles, lawn equipment or outdoor decorations that might come in the way of the condenser installation.
Now that you know how to prepare for a new HVAC installation, all you have to do is look up the air conditioning service near me. Or you can skip all the trouble and contact us directly to get your new HVAC installed by a team of professional.
Punctuality, Quality, Responsiveness, Value These guys are amazing!! Had to have a new heat pump and air handler installed and they treated us right. Jeff, Toby and Brad came out and installed our system quickly and efficiently! I can honestly say that I will never use anyone else for our heating and air needs. If you want a quick response and to be treated right, look no further!
- Thea Headrick