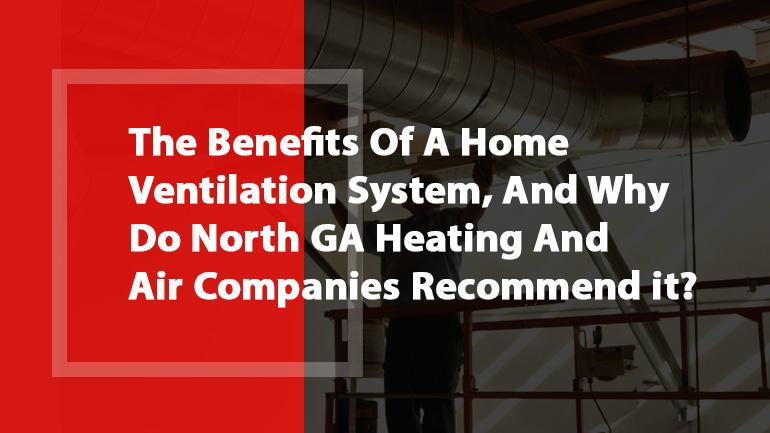 12 July 2021
North GA heating and air companies
When you think about your home's heating and air needs, you probably consider the AC unit and the furnace the only essential home comfort appliances. However, there is one more integral part of your home comfort system that you might be ignoring, and that is the ventilator. North GA heating and air companies such as us at Wayne's Heating and Air recommend installing a ventilation system in your home to maintain high indoor air quality. You might think that your home windows can circulate air through your home, but that is not always the case. When the air is stagnant, windows can do little to improve home ventilation or the indoor temperature by letting cold/hot air inside. However, energy efficiency is not the only benefit of whole-home ventilation systems; if you want to know why they are essential, we suggest reading till the end.
Benefits of Home Ventilation Systems by Your Favorite Air Conditioning Installation Company
Ever since the coronavirus pandemic struck, most of us are stuck indoors for most of the day. With the new work-from-home trends emerging, it is essential to maintain good indoor air quality. As your favorite air conditioning installation company, we at Wayne's Heating and Air feel it's our responsibility to inform you about the benefits home ventilation systems have to offer. So without further ado, here are some common advantages of home ventilation systems:
Reduce the risk of mold and mildew: Mold and mildew thrive in condensation and stagnant air. When air is not circulating properly throughout your home, it can stagnate in certain areas and provide ideal conditions for mold and mildew to flourish. However, since home ventilators are constantly moving air out of the home and bringing fresh air into the house, mold spores don't have the chance to settle inside your home and cause problems.
Reduced indoor allergies: Stagnant air holds allergens that can cause issues for people who have respiratory problems or allergies. However, when your heating and air conditioning repair company installs ventilators inside your home, they come with specialized filters that keep the allergens from spreading inside the house. So not only do these ventilators provide fresh air, but they also trap harmful allergens using specialized filters.
Energy efficiency can be achieved using ventilators: Now, while most homeowners use windows to let fresh air into their homes, they also allow heat or cold air inside the house. This change in temperature puts an unnecessary load on the home cooling and heating units. Their heating/cooling cycles repeatedly start when the outside air constantly gets inside and changes the indoor temperature. However, since modern ventilators are equipped with energy recovery systems, they make sure the air they are pulling from outside the home doesn't affect indoor temperatures.
Improved indoor air quality: The quality of the air you and your family breathe matters a lot and maintaining good indoor air quality is essential for your family's health. A home ventilator makes sure that germs and pollution present in the indoor air are constantly removed, and incoming filtered air is sucked in to replace the stagnant one.
Feel free to ring us for all your ventilation and HVAC needs.
Living in the Blue Ridge area, I called Wayne's and they promptly sent out a service technician. He quickly assessed the problem and fixed the HVAC within 15 minutes. I would highly recommend them for any future work. The pricing was also very reasonable.
- Karl Windischmann