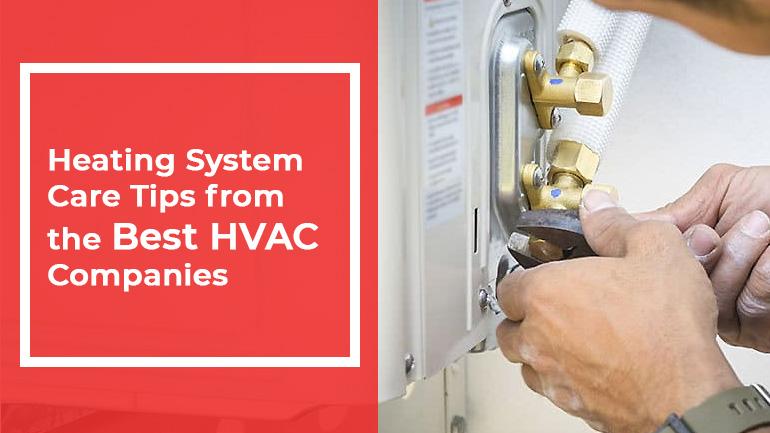 Oct 2021
Heating System Care Tips from the Best HVAC Companies
Every electronic appliance in your home and office needs regular care and maintenance. You are obligated to look after these machines if you want them to be in good condition for an infinite period. Ask the best HVAC companies near you, and they'll tell you that before calling any service provider, there are some things you need to do yourself, such as checking the thermostat and cleaning the filters. As the winters are around the corner, it is time to pay attention to your heating system and check if it works fine. This way, you'll know whether it just needs regular care or treatment from an HVAC expert. This blog will discuss some of the care and maintenance tips for your heating system so that you don't have to call any professional to repair it now and then.
Maintenance Tips Suggested by the Best HVAC Companies
There is a long list of maintenance tips for your HVAC system to ensure it provides suitable temperatures this winter and the seasons to come. However, we have discussed some of the basic ones below to give you a brief overview of keeping the appliance in good working condition this winter. The checklist includes the following.
Clean Vents and Filters
Your HVAC's vents are the first thing you need to pay attention to when beginning to clean and maintain the system. Always start with cleaning them and make sure no dust and debris are there to block the airflow. The same goes for the filters. Cleaning them is more important than the vents to ensure a steady and uninterrupted airflow to your rooms. All the best HVAC companies near you will suggest you install reusable filters so that you don't have to buy new ones every season.
Check the Thermostat
The thermostat plays one of the most crucial roles in maintaining a suitable temperature inside a building. Whenever you begin to look after your heating system, never ignore checking if it works correctly or not. If you get the desired warmth in the air flowing through the ducts and vents of the HVAC system, it means the thermostat is functioning alright. If it's the opposite, you probably need the services of a professional who knows how to get this tool to work correctly.
Clean the Heat Pump
Your heat pump is almost always exposed to blockages like dust, debris, or molds because it stays in the open. Begin with clearing the surroundings of this tool to make sure the air flows inside and out of it without any interruption. After that, clean the outdoor coils and remove every unwanted object from them to optimize the efficiency of your heating system.
Test the System
After you're done cleaning every exposed part of the system and ensuring there's nothing left on your care checklist, give the system a test run. If everything works fine, you're going to have cozy indoors this winter because there's nothing wrong with your HVAC system. If you sense any irregularities like the air isn't warm enough or the system makes some unusual noises, you need the services of any of the best HVAC companies near you. They'll be at your disposal to repair the heating system and make sure it is in good shape.
These are some of the essential tips to look after your heating system for a comfy winter season. If you have any concerns, questions, or need someone to optimize the performance of this appliance, Wayne Heating & Air can be a one-stop solution to every problem with your machine.
Our A/C went out and, though he could not come out that evening because he was so busy, Wayne kindly took the time to walk my husband through a temporary fix so that we did not suffer without a/c. He came the next day and competently replaced a damaged part for a very reasonable fee. We are so pleased with him and highly recommend him!
- Davelyn Vignaud