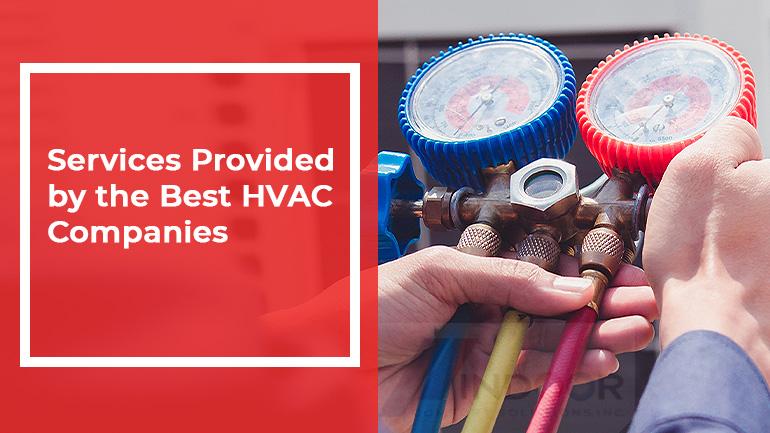 Oct 2021
Services Provided by the Best HVAC Companies
HVAC services are a necessity for every commercial and residential client throughout the year. Several firms provide these services to customers, but the best HVAC company near you will not just be your service provider. They'll seek to build a lasting relationship with you, and that is done with empathy and emotional intelligence along with their repair, maintenance, and replacement services. They'll always be there to help you maintain a suitable temperature, air quality and lower electricity bills in all seasons. All you need to do is find a service provider that doesn't just treat you as a client but as a member of their community. This blog will discuss some of the common services these companies provide.
Services of the Best HVAC Companies Near You
There's a long list of services these companies provide, such as HVAC repair, maintenance, replacement, and paying regular visits to make sure everything in your air conditioning and heating system is working correctly. Some of the benefits they offer are discussed in detail below.
Heating Services
All the top North Georgia heating and air services companies know that your heating system should work well so that you get the required temperature inside your house or office this winter. It is one of their prime jobs to inspect your heating system inside-out. They'll do the necessary maintenance work after a free inspection and cost estimation. If any part of the HVAC system needs replacement, they'll do that for you at the earliest. Now that winters are around the corner; it is time to contact the service providers and get the necessary job done to enjoy the coziness.
Air Conditioning Services
Air conditioning repair, maintenance, and replacement are also among the primary jobs of these companies. We know that summer has already ended, and you don't need to worry about air conditioning services. Still, it is advised to get the AC maintenance done right after summer ends or during the winter because these services are cheaper at that time. That will also save your time and money spent on maintenance or repair as the hot months arrive. Also, your cooling system will already be up and running the moment you need it to.
Air Ventilation Services
Air ventilation is one of the essential HVAC services you need to maintain humidity and air quality inside your home and office. Your HVAC service providers inspect the ventilation system, maintain it, repair it, or replace it if needed to make sure the environment inside your room isn't suffocating and has the necessary level of oxygen. They do it by testing the air quality and then making adjustments to balance it through proper ventilation.
Emergency Services
One of the primary jobs of responsible HVAC technicians is to provide emergency services to every client they have. That is what makes it possible to build lasting relationships with the customers. A heating and air system in a commercial or residential building may stop working at any time, and that is when emergency services are needed. The best HVAC company near you will be at your service without any question or delay because that's what makes them stand out among their competitors.
These are just a few of the services provided by HVAC companies in your area. If you want to make sure that you get the best service without any glitches, Wayne Heating & Air can be your one-stop service provider to eliminate all the problems you may have.
Had complete heating and air replaced recently by Jeff and his crew. Showed up on time as scheduled. A good product and fair price. Gets back to you timely by phone or text. Highly recommend Wayne's HeTi h and Cooling Thanks Jeff
- David Nadeau