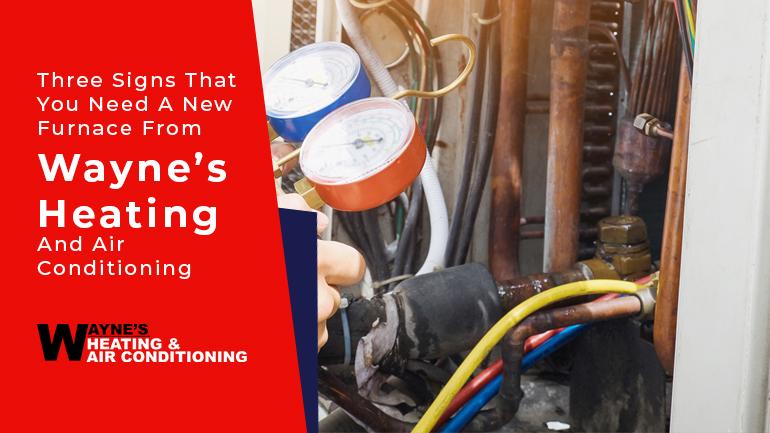 9 April 2021
Three Signs That You Need A New Furnace From Wayne's Heating And Air Conditioning
Furnaces are unsung heroes of homes here in the US and around the globe. They keep you and your family safe from the cold temperatures, and without a furnace, it can be potentially impossible to survive during winters. So it is natural that homeowners don't want their furnaces to give up on them all of a sudden during the peak of winter. That is why we at Wayne's heating and air conditioning recommend looking out for signs and warnings that tell you that your old furnace is about to fail at any moment. With that being said, an average homeowner can often ignore the warning signs of a failing or bad furnace if they don't know what signs to look for. To help anyone who might be wondering how they can tell if they need to buy a new furnace from us at Wayne's heating and air, we have created this helpful guide.
Air conditioning repair companies suggest looking out for these signs of a failing furnace.
Wayne's Heating and Air company has seen countless situations where a home furnace failed all of a sudden in the middle of the winter. Since homeowners aren't usually prepared for their home furnace, failing when it happens can leave them without a heating solution until a new furnace is installed. To save yourself the trouble of ending up without a furnace in your home, air conditioning repair companies such as us recommend looking out for the following warning signs. By catching these signs early, you can get your home furnace replaced in time:
Your home furnace is older than 15 years: We have seen home furnaces last a long time; however, generally, furnaces have to be replaced every 15 to 20 years because, after that, the furnace's performance can drop. Not to mention a furnace older than 15 years is already reaching the end of its useful life. So it is a good idea to get your furnace inspected by our team if it is 15 years old. Our team of experts can evaluate your furnace's condition and recommend if it still has useful life left in it or not after 15 years of service.
Energy bills have gone up significantly: Your furnace uses up a lot of energy to keep your home warm during the freezing winters. However, if you have started noticing an unusual increase in energy bills, then you should call an HVAC maintenance company such as us as soon as possible. For comparison, compare the bills with the bills of last year during the same month. While utility costs can increase or decrease during a year, it might be due to a failing furnace if the difference is too significant. If repairs don't fix the furnace's high energy consumption, replacing it with a new energy-efficient furnace is a smart move.
Frequent repairs and constant break downs: A good furnace keeps working without issues day in and day out with regular maintenance only. However, if your furnace has constantly been breaking down and you are getting it repaired every few months, then it might be a sign that a furnace replacement is in order.
Are you looking for a heating and air company near me to replace your old furnace? Just get in touch with us, and we will replace or repair your furnace in no time.
Owner and key employee performed all work. Timely, professional, very fair pricing and excellent communication. Showed up on time every time. Would highly recommend with NO reservations.
- Cynthie Levin